2
minutes estimated reading time.
How To Use Slack To Maintain A Team Reading List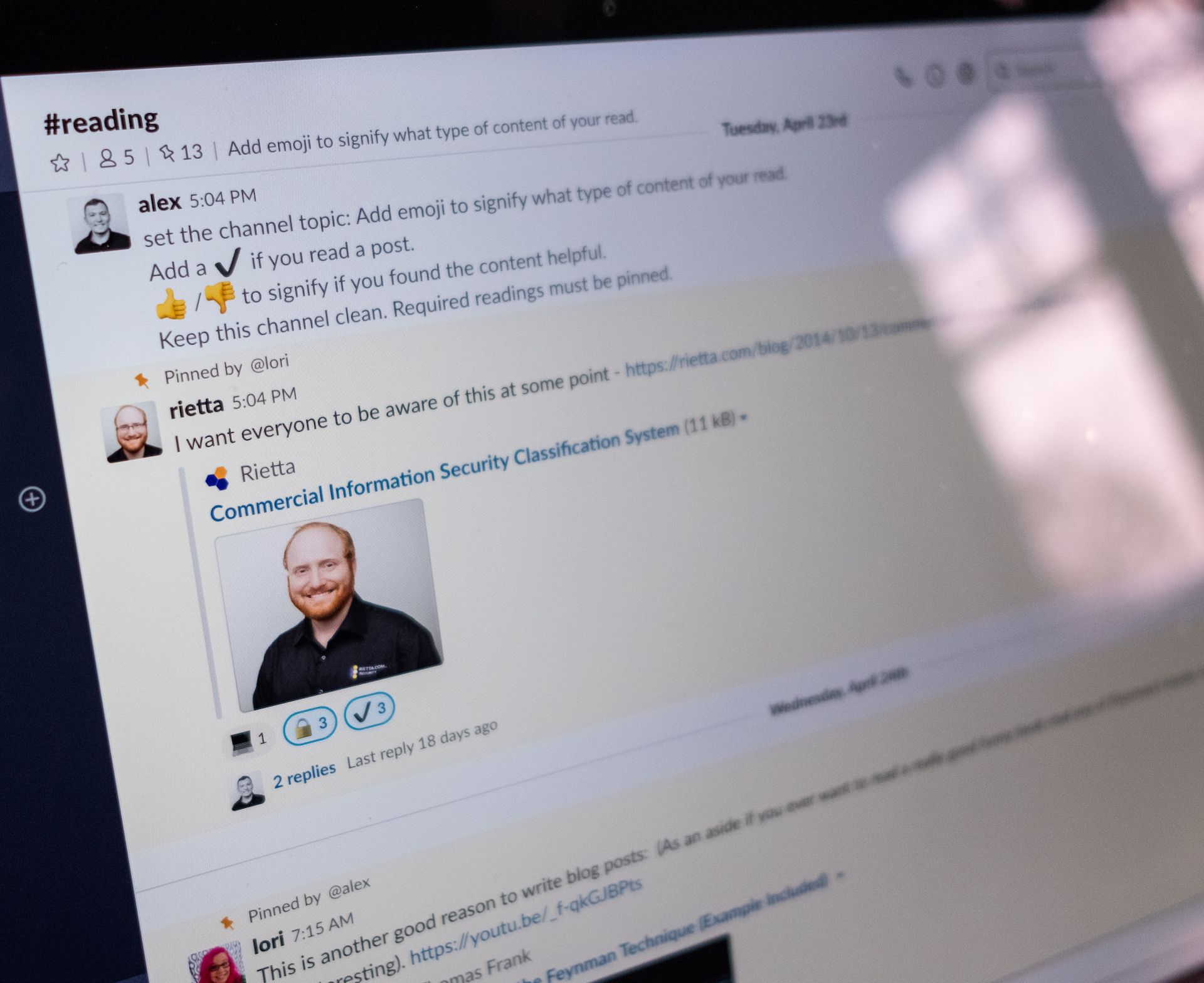 At Rietta, we understand the importance of continuing our education outside of the classroom. We use a reading channel in our company Slack to keep a pulse on industry and keep each other informed on the latest vulnerabilities. It's been working great. Here's how we do it.
The reading channel has a few strict rules to ensure there is no clutter. Here is an excerpt from our internal company handbook (that we call the vault):
This channel is to remain clear of any conversation
Every message in the reading channel is 1 reading item
Required reading items are pinned
If you'd like to have conversation about a reading item, use a thread
When you've read an item, react to that message with a ✔️
If you found the content particularly fruitful, react with a 👍
With those simple rules, we have a clean, focused avenue for discussions and sharing great articles to keep us all informed. Pinning a message is a way we signify business importance without cluttering up the channel. This way, a new hire can get to the marrow of required readings in a streamlined manner.
Not everything linked is an article on a world shattering software vulnerability. We like to share productivity tips, interesting deep dives into Advanced Arel Query Usage, and older greatest hits from our own blog.
Our scrum master, Lore, likes to post motivational and productivity-enhancing videos. Alex always keeps us up to date on the latest CVEs, and Frank likes to link to articles about obscure Rails features.
Having a special place in your internal Slack to open up and skim like one would a newspaper is a great way to start the morning. Reading about the latest news and contributing to discussions with your co-workers can be an awesome way to start the day. Hopefully this has inspired you to start a similar channel in your work's Slack.